Jenny Lee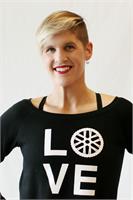 With 11 years of Group Exercise Instructing, Jenny bring a unique, fun, and motivational workout that will leave you pushing yourself further than you ever thought possible... all with a smile on your face. Jenny is truly everybody's biggest fan and believes that when fitness is paired with a fun workout environment, great things can happen. As a former therapist and current Life Coach, Jenny brings a unique set of skills to each and every class to get you to do more and push harder, all while keeping it safe and effective.
When Jenny is not teaching she is out enjoying the outdoors with her husband and two fur-babies. If you see her on the single-track, hiking with her pups, or up volunteering with Mt Bachelor Ski Patrol, be sure to stop her and say, "hi!"
Jenny Lee instructs the following:
If you like a more "traditional style" spin class, this is the class for you. This ride will tackle rolling hills, sprints and other various drills to give you an awesome workout.




This high-energy class provides riders with a unique balance of cardio and strength conditioning. The music and the beat are the motivation to the ride. Push ups, abdominal work, jumps and hand weights make this class physically challenging and fun.