Stacy Crain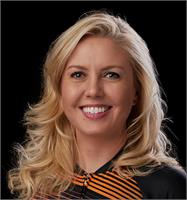 Stacy Crain is a 2015 graduate of North Carolina State University with bachelor
degrees in Environmental Design and Architecture. She studied in the Czech
Republic and is a Leadership in Energy and Environmental Design (LEED)
accredited professional.
Since 2001, Mrs. Crain has promoted health, wellness and happiness through
exercise. She has over 10-years' experience of teaching indoor cycle and over
16-years' of personal training and group exercise experience.
When she is not teaching cycle, Stacy is working as an architectural associate,
exploring Bend with her husband, and hiking with her standard poodle.
When you take her class, expect a focused high-energy workout with lots of
sweat! Stacy's class design is driven by good beats, positive motivation and
correct form. You'll feel challenged and successful when you're done!
Stacy Crain instructs the following:
This high-energy class provides riders with a unique balance of cardio and strength conditioning. The music and the beat are the motivation to the ride. Push ups, abdominal work, jumps and hand weights make this class physically challenging and fun.




If you like a more "traditional style" spin class, this is the class for you. This ride will tackle rolling hills, sprints and other various drills to give you an awesome workout.