Max Fritz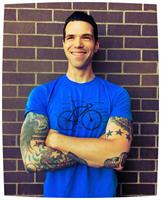 Hailing from the magical land of Southern California Max is here to help you find more enjoyment in your workouts than you ever thought possible. With a background that includes a handful of marathons, years of weight training, yoga teaching and as much time on the bike he can muster, there's really nothing that Max doesn't enjoy!
Max Fritz instructs the following:
If you like a more "traditional style" spin class, this is the class for you. This ride will tackle rolling hills, sprints and other various drills to give you an awesome workout.




This high-energy class provides riders with a unique balance of cardio and strength conditioning. The music and the beat are the motivation to the ride. Push ups, abdominal work, jumps and hand weights make this class physically challenging and fun.




Introducing our 30:30 hybrid! Ride strong for 30 minutes and hit the training studio for a 30 minute strength based TRX session. You will leave leaner and stronger eager to take on what's ahead! Cross Training for all levels.