Lindsay Kandra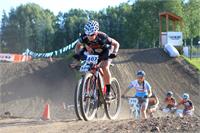 My hometown:
Klamath Falls, Oregon
Before JoyRide:
Recent transplant from Portland. Ten years experience racing all sorts of bikes.
Why I Ride:
Because everything looks different on two wheels.
When I'm Not Pushing Watts:
Climbing up rocks so I can rappel of of them. Riding mountain bikes. Going to graduate school to become a therapist.
Guilty Pleasures:
Sleep, nachos, margaritas.
Favorite Tracks in the Stadium:
Renegades of Funk-Rage Against the Machine; Wolf Like Me-TV on the Radio; Heads Will Roll-Yeah Yeah Yeahs; Fall Behind Me: The Donnas.
Lindsay Kandra is currently not instructing any classes.